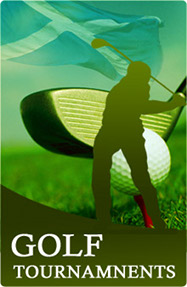 Golf in Perthshire
The best thing about a Perthshire golf break is the sheer number of top-notch courses set in the most stunning of locations. The world famous Carnoustie Golf Club sits just under 30 miles from Blairgowrie Golf club, itself only 20 miles from Pitlochry Golf Club.

Accommodation is most sensibly recommended in Perth, a central point from which to head off each day, from city self-catering apartments to the award-winning Parklands Hotel, and a slew of mid-range hotels to fit every taste and budget.

The city of Perth manages to combine a relaxed country feel with a modern buzzing vibe. Check out Kinnoull Hill for wooded wilderness and views of the city, shop at the St Johns Shopping Centre, check out Scone Palace – the crowning place of the King of Scots, and Elcho, Huntingtower, Megginch and Balhousie Castles and experience quality culinary experiences, from nearby Michelin-starred Andrew Fairlie's Restaurant at Gleneagles to more affordable and very authentic Scottish cuisine found throughout the city.
Day 1
Start your 3-day Perthshire golf break at Carnoustie Golf Links, one of the fairest, yet sternest, most technically difficult tests of golf anywhere in the world, and only 25 miles from St Andrews and the Home of Golf.
Day 2
Head to Blairgowrie Golf Club, which offers up 45 holes of golf for visitors. The parkland setting, offers three courses: the 18-hole Lansdowne Course, the 18-hole Rosemount Course which is regarded as the premier inland course in Scotland, and the 9-hole Wee course, perfect for a warm up or for less- skilled members of the golf break group.
Day 3
Head to Pitlochry Golf Club and be rewarded on your final day with breathtaking views of the Grampian Mountains and Ben-Y-Vrackie to the north and great views of the River Tummel. Pitlochry Golf Course is located just 25 miles northwest of Blairgowrie Golf Course and less than 20 miles from Perth.
Day 4
Taymouth Castle Golf Course in Kenmore offers golf on 18 holes of absolute grandeur and beauty just 40 miles from Perth. Taymouth is laid out in the former deer park of the Taymouth estate and offers spectacular views of the river Tay and Loch Tay.
Day 5
Finish up your Perthshire Golf Break hitting 18 holes at the Murrayshall Lynedoch Course which is surrounded by wild flower meadows and fine Scottish pine located just minutes outside of central Perth.
Golf Pass
For an economic golf break in Perthshire, the Perthshire Green Card offers discounts on 19 courses, and includes discounted admission to the Perth Racecourse and Perthshire whisky distilleries to give golfers a more well-rounded golf break experience.