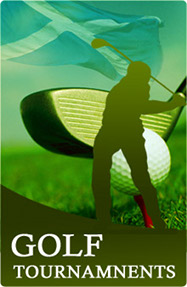 Annual golf tournaments in Scotland
Scotland is known around the world as the Home of Golf and some of the world's top Golf Tournaments take place throughout Scotland each year as a part of the PGA, The PGA European tour and The Open Championship and the Ryder Cup.
The Open Championship
The Open Championship, also known as the British Open, takes place annually on various courses throughout Scotland and England, most frequently on the Old Course at St Andrews, in Fife, Scotland. First played on 17 October 1860 at Prestwick Golf Club, in Ayrshire, Scotland, the Open attracted a field of eight Scottish golfers who played three rounds of Prestwick's twelve-hole course in a single day.

St Andrews become the second course to host the Open in 1873, and since 1990 St Andrews has been scheduled to host the Open Championship every 5th year ending (2010, 2015, 2020). Other famous Scottish golf courses playing host to the British Open include the Carnoustie Golf Links Championship Course, who first hosted the Open in 1931, Muirfield Golf Course just 25 miles from Edinburgh, which first staged the Open Championship in 1892, The Turnberry Resort on the Alisa Course on the Southwest Coast in Ayrshire, Scotland which first hosted the Open in 1977 and most recently in 2009, and the Royal Troon Golf Club in South Ayrshire, Scotland which has been in the rotation since 1923.
Johnnie Walker Championship
The Johnnie Walker Championship takes place at Gleneagles in Auchterarder, Perthshire, Scotland just 45 miles from Edinburgh at the end of August every year. The Johnnie Walker Championship is played over the PGA Centenary Course and is an event on the PGA European Tour and is very well- established Championship attracting some of Europe's most talented golfers.
2014 Ryder Cup
In addition to the annual Johnnie Walker Championship, the 2014 Ryder Cup will be taking place at Gleneagles in 2014. The Ryder Cup is a biennial golf tournament alternating every two years between European and US locations. The 2014 Ryder Cup, the tournament's 40th competition, is taking place at Gleneagles on the PGA Centenary Course, and will be the first time in more than 40 years that the tournament will have been played on Scottish soil, expecting to attract in excess of 40,000 visitors daily as the third largest sporting event in the world.
Scottish Open
Since 1996, the Scottish Open was been hosted at Loch Lomond golf course in Argyll and Butte, 20 miles northwest of Glasgow. Since 2011 The Scottish Open moved to Castle Stuart Golf Links near Inverness, a brand new course.
Alfred Dunhill Links Championship
The Alfred Dunhill Links Championship pro-am tournament is played each year in October on three different links courses in the heart of the Home of Golf: St Andrews, in Fife, Scotland. The three courses are St Andrews, Carnoustie and Kingsbams, with the final round being played at St Andrews Golf Course.