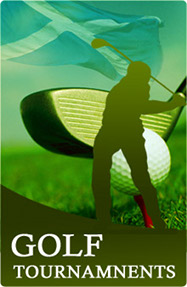 Scottish Golf Packages
Golf packages in Scotland are available throughout the country, in many shapes and sizes. Whether you're looking for a popular itinerary or want to put together your own trip taking in a range of courses, there's an option available. Most standard Scottish golf packages take into account the best locations in one specific area - read on to find out more.
Golf in Perthshire
Golf in Perthshire offers a diverse range of courses alongside top restaurants and ancient castles. Known for its breathtaking beauty, Perthshire is tranquil but also boasts a vibrant feel centred around its major city, Perth. Choose a Perthshire golfing package if you want a solid selection of courses and a wide breadth of additional attractions. Accommodation is mostly to be found in Perth, often delightful guest houses that retain original features.
Fife golf
Fife is the top Scottish golfing destination - it's home to famous St. Andrews alongside other world-renowned courses including Lochgelly and Leven Links. As well as these historic courses, Fife golf packages allow you to see unique attractions including the British Golf Museum - filled with information on the history of the game - and the Mills Observatory, the only full-time public observatory in the United Kingdom.
Golf in East Lothian
Golf in East Lothian offers an enjoyable mix of stunning seaside courses - all within easy reach of accommodation in Edinburgh city centre - as well as 'must-visit' cultural locations such as the Royal Mile and the Scottish Whiskey Experience. Gullane Golf Club, easily accessible via road and train, was in 1934 called one of the most beautiful spots in the world.
South coast of Scotland golf
Golf on the south coast of Scotland gives you many options. Aberdeen offers more than five courses within its boundaries, allowing you to enjoy the city's vibrancy with top golfing locations on your doorstep. Head a little further out and you'll find stunning courses such as Fraserburgh, located in a charming fishing town and designed by renowned designer James Braid. If you fancy some sightseeing, check out ancient stronghold Dunottar Castle, or the intriguing Museum of Scottish Lighthouses.
Golf in Southwest Scotland
If you love travelling and fresh air, you'll love golf in South West Scotland. From James Braid-designed Glencruitten course to Cowal - which requires a brisk ferry trip to access - there are some gorgeous locations to get your teeth into. Turnberry, just 50 miles from Glasgow, is one of the most famous courses in the world. The south west is also a fantastic place for outdoor sports including sailing and fishing.